TEST FREAK 2.0 is an advanced test booster formulated for men with the best natural ingredients we could find to help optimize your natural levels. We have meticulously crafted TEST FREAK 2.0 with a number of KEY INGREDIENTS specifically designed to:
Help support testosterone & libido

Help improve body compostion

Help support recovery and overall health
In today's world, testosterone levels have taken a downward plunge, leaving previous generations, including your father and grandfathers, with potential higher levels than what you're currently experiencing. What's more is that as men age testosterone levels may start to decline after the age of 30.
Some signs of low testosterone may include; decreased libido, changes in sleep patterns, lack of motivation and reduced muscle and strength.
To combat this, focus on these key areas which may help — get solid sleep, balanced nutrition, adequate vitamin D, consistent exercise and supplement your regime with TEST FREAK 2.0.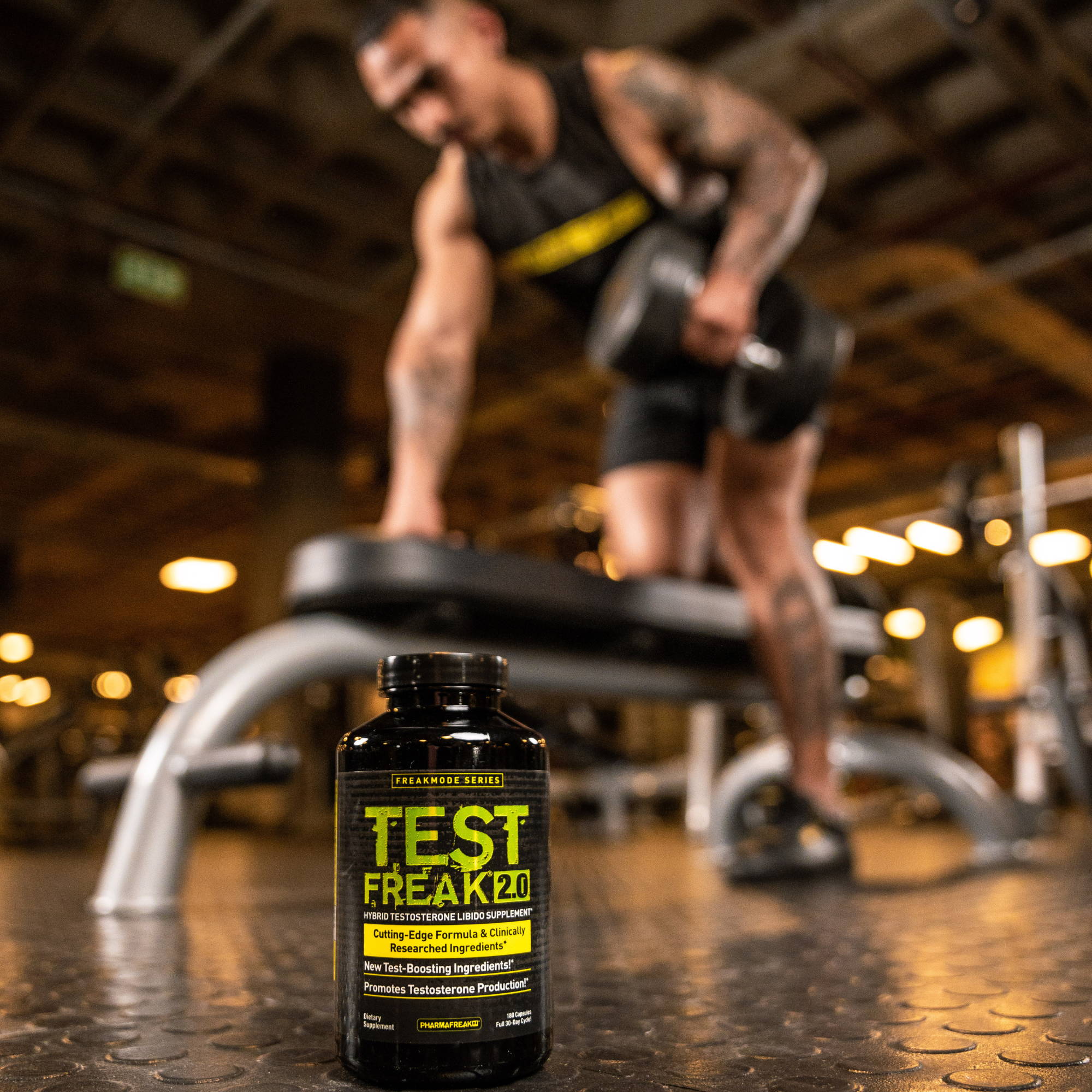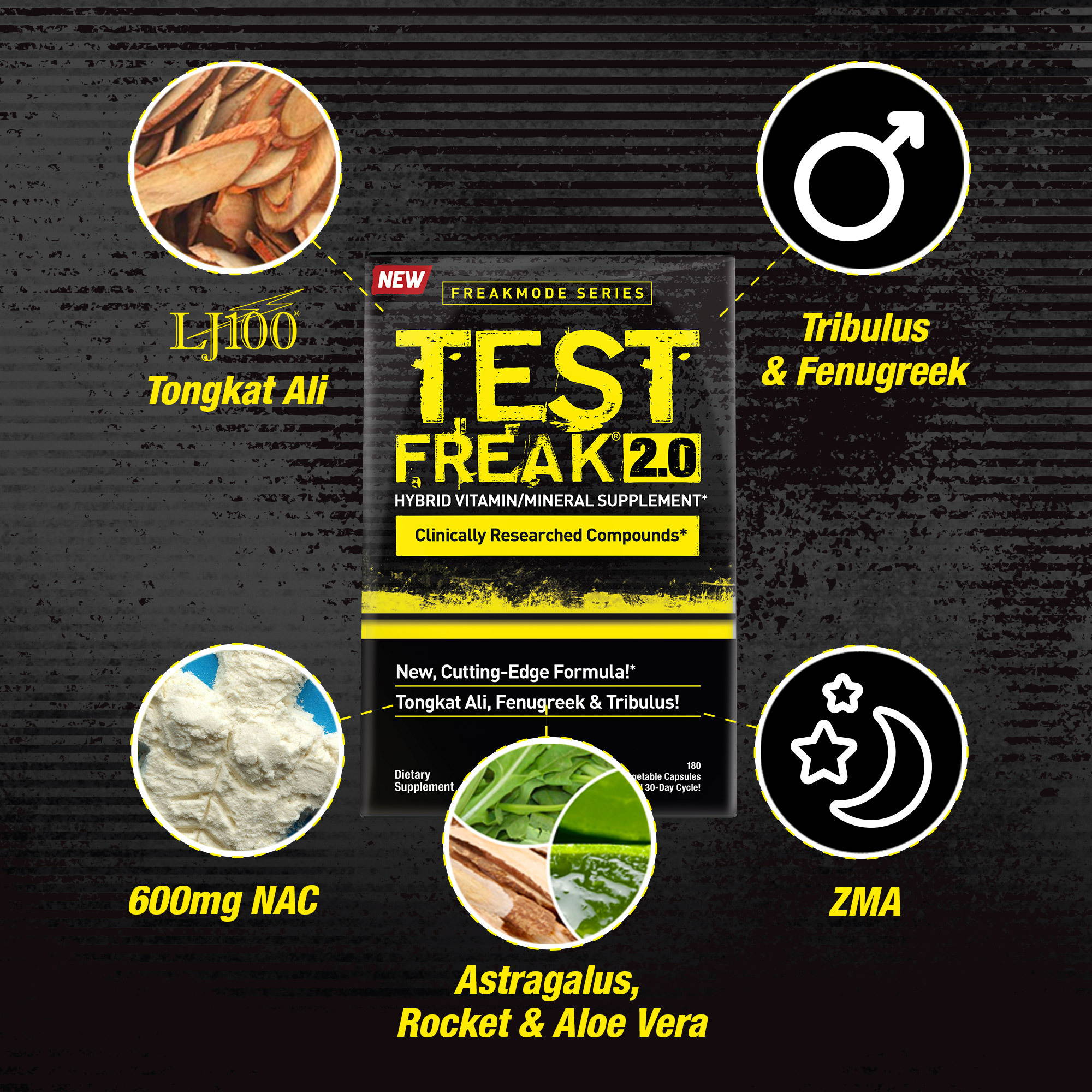 TEST FREAK 2.0 contains an effective dosage of some of the best natural ingredients available, including the patented and clinically proven LJ100 Tongkat Ali, Fenugreek, Tribulus Terrestris, N-Acetyl-L-Cysteine (NAC), Selenium, Astragalus, Zinc, and Magnesium!
TEST FREAK 2.0 is powered by LJ100 - a safe, unique, standardized, patented, rigorously science-tested and proven, proprietary nutraceutical. The benefits of LJ100 come from the herbal extract, Tongkat Ali (also knows as Eurycoma longifolia), which is sustainably harvested from the rainforests of Malaysia.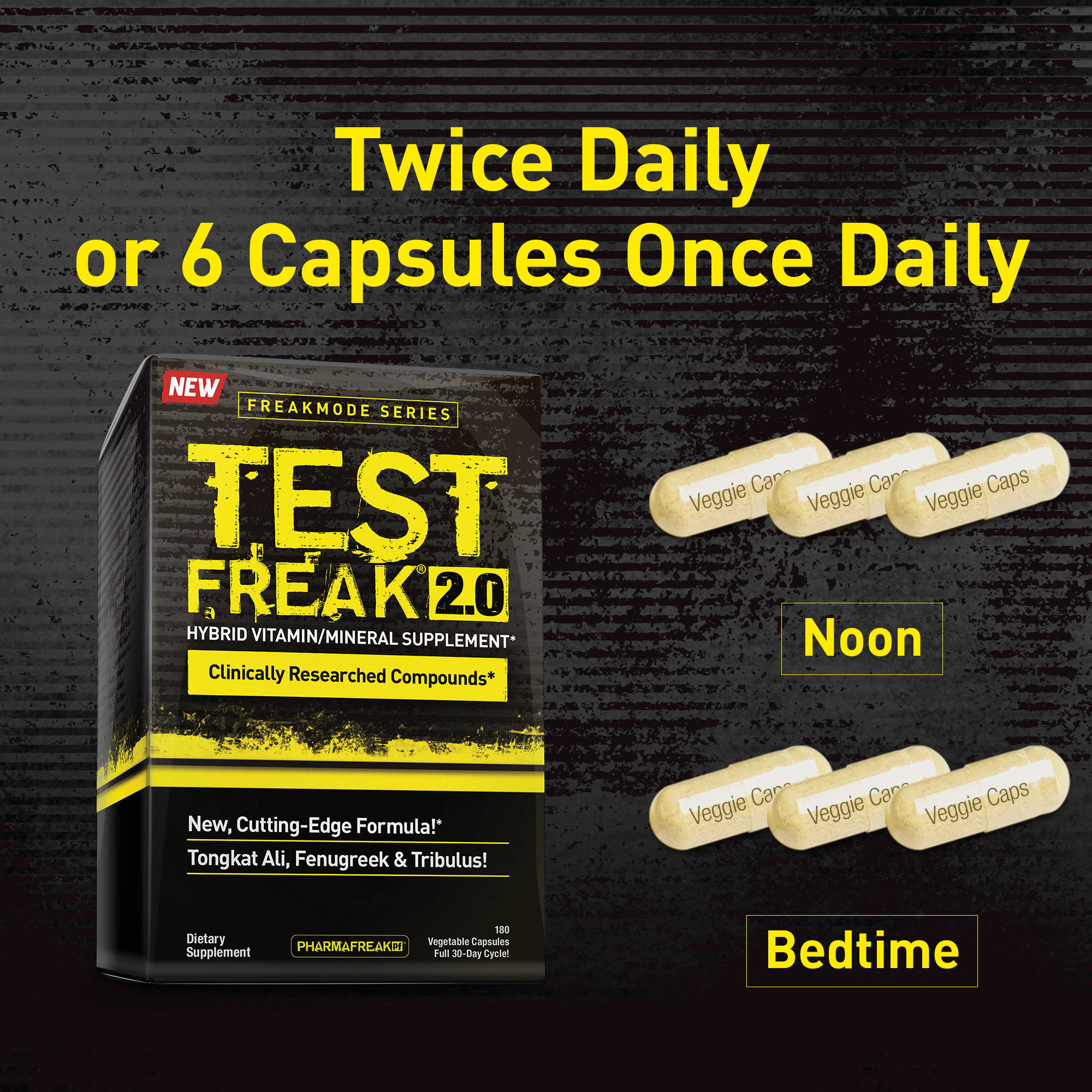 TEST FREAK 2.0 is designed to support your natural T levels in an easy-to-use formula. Simply taking 3 veggie capsules twice daily (for example afternoon and evening). Alternatively you can take 6 veggie capsules once daily. Take with food.
We recommend you use TEST FREAK 2.0 in conjuction with a balanced nutriton and training plan to maximize results. Consult a healthcare professional before starting any new supplement or training program, particularly if you have any underlying medical conditions or are taking other medications.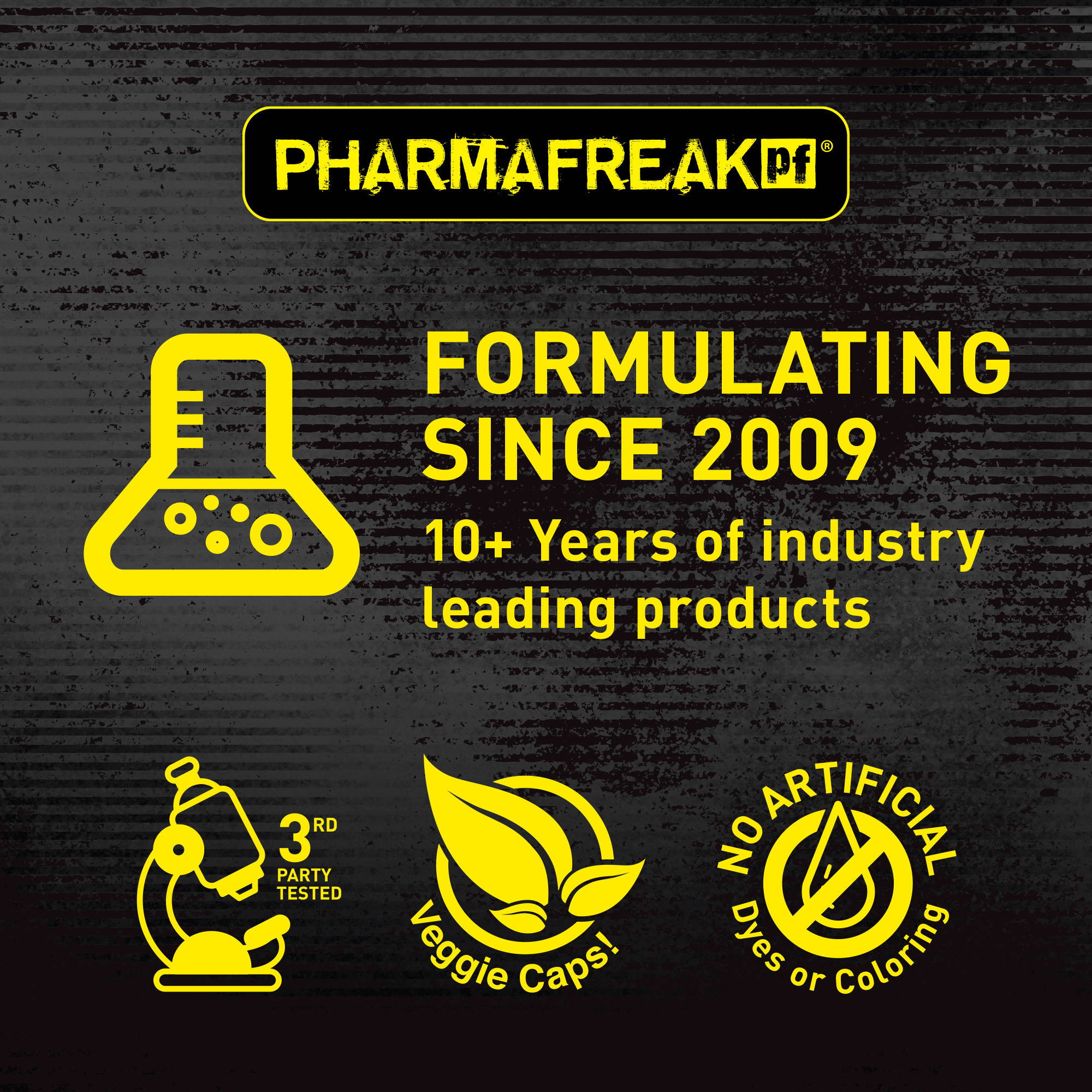 PHARMAFREAK is about passion. Since 2009, we have been developing sports supplements that we want to use. We do not create "me-too" products. Instead of following trends and dollar signs, we pursue our passion. Our supplements go through a battery of tests from raw material to finished product to ensure the highest possible quality.
TEST FREAK 2.0 was designed by PHARMAFREAK with over over 10+ years of industry experience. Our products like TEST FREAK 2.0 are third party tested and contain no artificial colors or dyes!
"Safe to say it works, at least for me. Been using for 3 months (tried original formula as well) and there is quite a noticeable difference in mood energy and increased sexual drive."

"Used this product many times. Seems to work even better the older I get."

"Been using this product for several months and notice increased strength after each week. Would recommend this to anyone."
---
Frequently Asked Questions
How do I take Test Freak 2.0?
Take 3 capsules, twice daily. Take a few hours before or after taking other medications. Take with food.
Are there any potential side effects?

TEST FREAK 2.0 is generally well-tolerated when taken as directed. However, individuals with specific medical conditions or those taking medication should consult a healthcare professional before use.
How long does it take to see results?

Results may vary, but many users experience noticeable improvements within a few weeks of consistent use. For optimal results, it is recommended to use TEST FREAK 2.0 as part of a balanced diet and regular exercise routine.
Is Test Freak 2.0 suitable for women?

TEST FREAK 2.0 is specifically formulated for men. Women, especially those who are pregnant, breastfeeding, or have specific medical conditions, should avoid using this product.
Can I stack Test Freak 2.0 with other supplements?

TEST FREAK 2.0 can be stacked with compatible supplements like ANABOLIC FREAK and CREATINE FREAK 2.0. However, it is advisable to consult with a healthcare professional or fitness expert to ensure the safe and effective combination of supplements based on individual needs and goals. You can also email us at info@pharmafreak.com or message us on Instagram @pharmafreak for support!
Frequently Bought Together